Digital 52 4️⃣ - Paving the way for sustainability in coworking, the story of Nest City Lab.
This story is about sustainability and coworking. You won't learn how to recycle better, or how to change lightbulbs. Instead, you'll learn how to make sustainability an integrative part of your space's mission, vision, and philosophy. Meet Nest City Lab.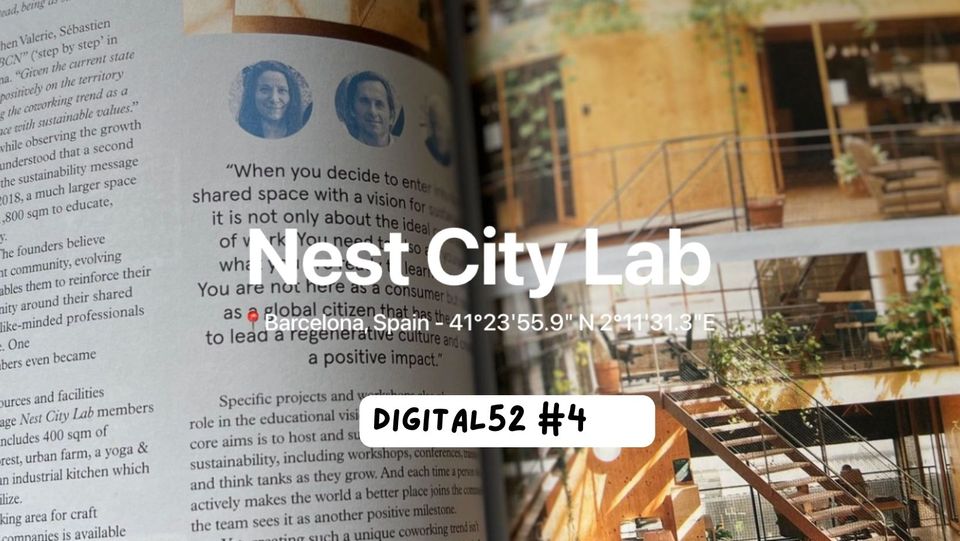 🏷️
Their Tags in the book
Changing Location - Peer-to-Peer Learning - Sustainability
Read their story on page 124.
The space you are about to discover today is one of the very first coworking spaces we met when our journey around the world began. There is an "imperfectly" written article on our blog, dated 2016, which we called "Crushing on Apocapoc", and I can say for sure that this title is still accurate 7 years later.
Throughout the years, we've loved following Val, Sebastien and Fabien grew in their own coworking journey, one that has always revolved around sustainability. Convinced that there are many ways we can build a better future for all, the trio has used coworking and its model to bring together a resilient community.
Beyond everything, their focus, their exemplarity, and their beautiful ways of doing business with a purpose have been a constant source of inspiration for our team.
Whether you know a lot or not much about how sustainability can be approached at work, you are about to gift yourself a 5 minutes mastermind session on the topic.
Welcome to Barcelona, Welcome to Nest City Lab!
This post is for subscribers only