Digital 52 5️⃣1️⃣ - On building and growing a high-end coworking brand in Paris with experience at heart: the story of The Bureau.
Today's story will take you to Paris, France's capital city. What's there? a high-end coworking brand that has placed the "art of living" at the center of its experience.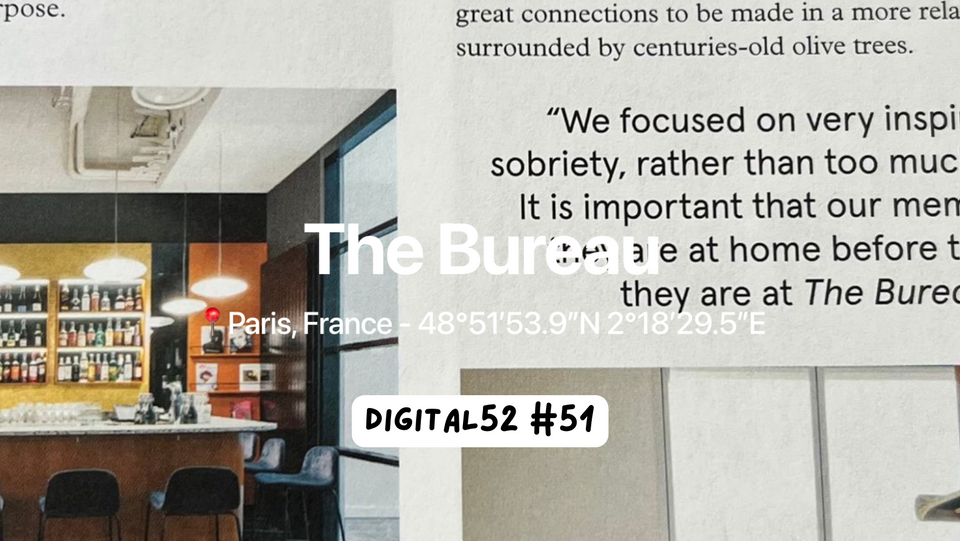 Today's story will take you to Paris, France's capital city. What's there? a high-end coworking brand that has placed the "art of living" at the center of its experience.
🏷️
Their Tags in the book
Interior Design - Member Experience - Premium Spaces
You can read the story of The Bureau on page 25 of "Around The World in 250 Coworking Spaces".
Have you ever come across the term 'high-end/premium coworking space' and wondered what it means? One of the first times we encountered a high-end coworking space during our coworking travels was in 2017 in Paris. Interestingly enough, back in 2017, Paris's coworking scene had yet to fully emerge compared to other European cities like Berlin or Barcelona. However, unlike the two mentioned earlier, Paris, while not having as many spaces as them, already had a premium coworking brand called The Bureau. I still vividly remember our time there because the experience we had in just one hour exceeded our expectations. Although the brand was relatively new at the time, it felt like The Bureau had nailed everything it stood for: the right (beautiful) interior, the right partners, the right members, and the right location to become what it aspired to be. But how did it all come together? In today's Digital 52 #51, we uncover the story of The Bureau with and for you.
➡️ A little refresher
Who's behind the featured space?
Meet Laurent Geneslay, Founder of The Bureau.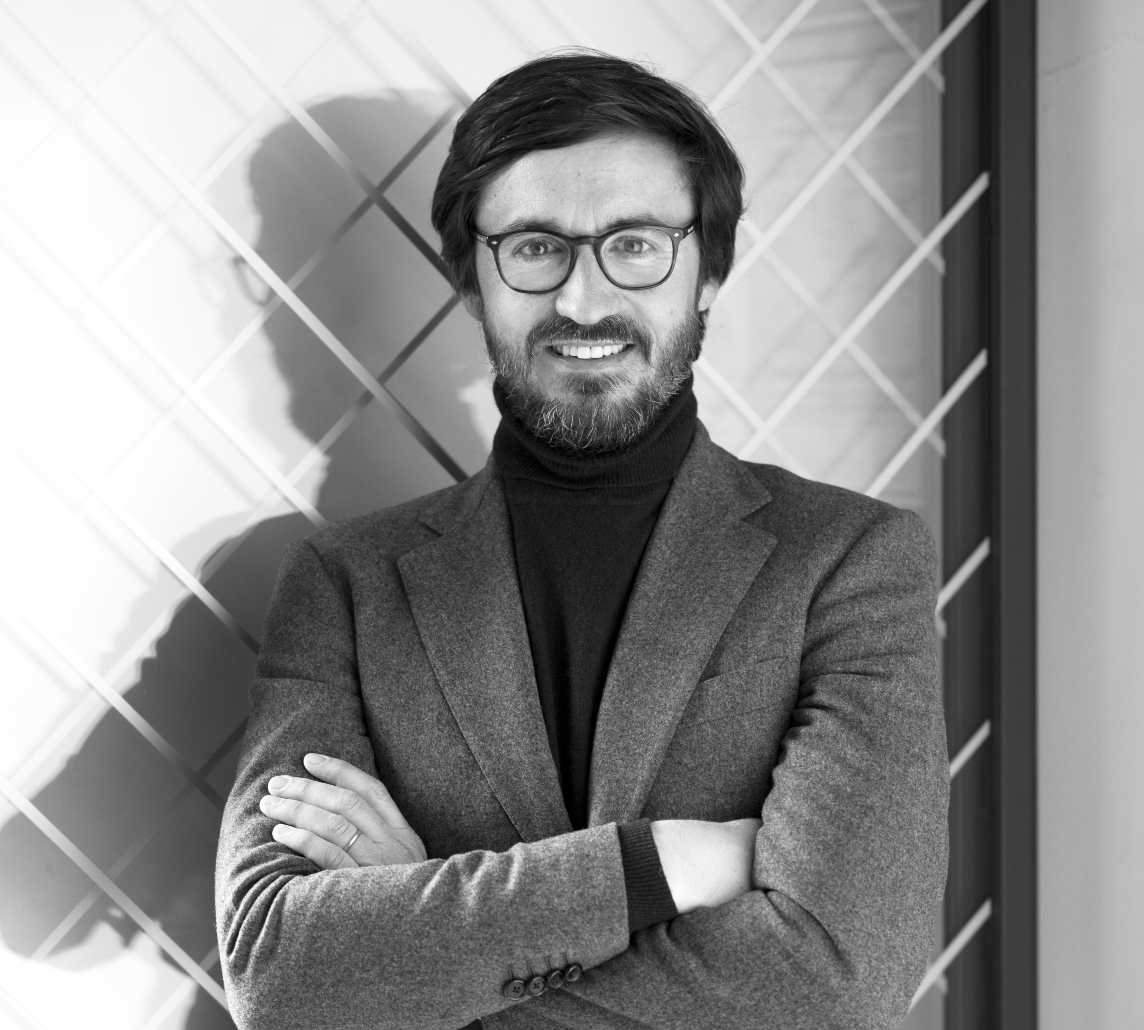 What pushed Laurent to move from the trading world to the flex office world?
"There was no boutique office in France back in 2015. My objective was to start a place where I would love to work, myself. This way of working, centered around community, matches perfectly my lifestyle."
➡️ Key figures
Opening year: 2016
Size when they started: 1 space in Paris.
Size today: 4 spaces in Paris.
➡️ A little tour around The Bureau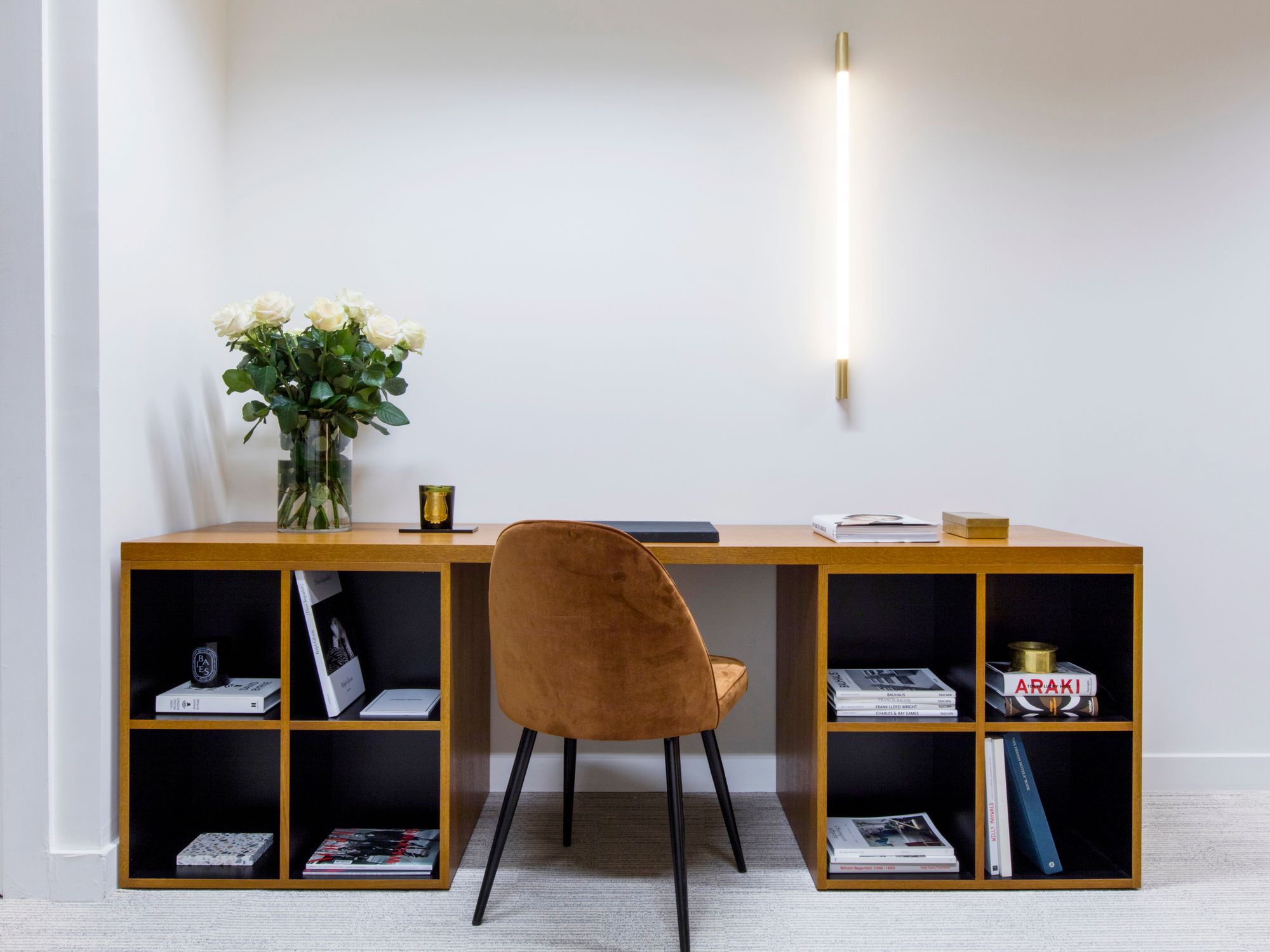 ➡️ Behind-the-scenes
Things you didn't read in aw250cs.
👉
Why The Bureau as a name?
"The Bureau was actually the code name of our project when we started. When we had to choose the final name, The Bureau became obvious."
👉
Gastronomie at the heart of their spaces.
Each The Bureau location has a restaurant / a café answering the willingness of Laurent and his team to place "the art of living" at the center of members' experience.

"The gastronomie is an engine for the energy flow of our buildings."
"If we know why they come, we know what to do to make them stay. "
Laurent Geneslay, Founder of The Bureau
➡️ The Bureau Today
Where does The Bureau stand today? That's the exact question we had the opportunity to ask Laurent Geneslay, the Founder of the brand. As you are about to discover, our conversation with Laurent centered around two keywords: reflection and growth. As always with us, growth doesn't simply refer to an increase in size but also to a deeper understanding of the steps taken to build a better and brighter future for The Bureau. Are you ready to delve into his interview with us?
💫 Growing in size and in awareness.
💡
A new opening.
As you are about to discover, The Bureau grew since the release of our book and opened 1 new space. What's the story behind it? Keep reading to find out.
💡
Reflecting on the journey so far.
From 1 space to 4. For some it feels like a big step, while for others (like Laurent) it might feel like the beginning of something bigger. What does Laurent take away from his journey so far and where does it he want to bring The Bureau next? The answer is below.
💬 I'd like to start by asking you: what's new at The Bureau since September 2021?
We opened our fourth location at 42 Notre Dame des Victoires in December 2021. It was a challenging period because we had opened the third building on rue du 4 Septembre during the lockdown, and simultaneously, Notre Dame des Victoires was under renovation during the lockdown, too. We were promoting our empty office spaces while all day long, people were being told not to go to work. It was incredibly complicated.
Now, the fourth location is amazing because it's right across from the Palais Brongniart (ndlr. Paris' Stock Exchange Building). We also introduced a new concept called the 'Floor Eiffel.' Interestingly, 'floor' was a name that naturally came to me because of my sixteen years of trading experience, and the building being right in front of the stock exchange. So, 'floor' was a no-brainer. The Floor Eiffel is a café that's been a huge hit without any marketing effort. In fact, numerous influencers have praised it as the coolest place to work. It's always packed and open to the public, which is a departure from our usual restaurant-only setup. It's a 2000-square-meter space with a Mad Men and Herald Tribune ambiance from the 1950s. You'll find the same classic elements like wood, ribbed glass, and brass—a very cozy atmosphere that defines our workspace.
💬 You run 4 premium coworking spaces in Paris, what's your definition of being a premium coworking brand?
That's a very good question because I often find myself contrasting high-end with luxury, as there's often an analogy drawn between coworking and hospitality. Of course, just as there is luxury in hospitality, we talk about luxury coworking. Luxury has connotations of being expensive, that's true, but high-end, high-end is about design, obviously. It comes down to the materials you use. So, the first impression is exactly that – if you have a lot of plastic and rubber when there's wood and glass, you immediately see the difference in quality.
But what I often say is that high-end is often what you don't see. It's everything that makes your day go really smoothly.
It includes all the services we can offer, ranging from the basics like receiving and sending mail from your workspace, having attentive receptionists and concierges who make your daily life easier, having super-fast internet that doesn't drop, and having an IT system in place. When you have an issue, someone connects directly to your computer. That's it.
In essence, it's everything you may not necessarily see but makes you wonder what's going wrong when it's not working. I like the comparison with health – when everything's fine, you don't think about it, but as soon as you have the slightest issue, you start to worry. So, high-end coworking is all about ensuring that everything runs smoothly without you necessarily having to see it.
💬 When we first met you guys, you had 1 space, you have now grown to 4, can you walk me through your growth journey? Why did you want to grow? What has growth meant to The Bureau?
It feels like we 'only' have four spaces.
You know, the dream of every entrepreneur, when you create something, is to build a community. You need to be able to rally a community around your project. The Bureau had the good fortune to be liked, and it continues to be liked. We offer flexibility, but in fact, we realize that the people who come to us are not looking for flexibility at all, but rather a new way of working. They actually embrace what we offer. The first two are on the same street because, well, it was an opportunity that arose. And it allowed us to show everyone that we had a new concept that works, that can deliver on the promise to its members, meaning offices, services, an environment, and a community that we nurture. And naturally, when everything is working, it fills up very quickly. And when we're full, the first thing we think is that we're too small; we need to offer this to more people in different neighborhoods. As you know, we were born in 2016, so by the time we did this Proof of Concept, we quickly reached the end of 2018, 2019.
2019 was a great year when everything was going well; we signed many agreements and prepared many projects. And then our wings were clipped by the pandemic but also by the American coworking giant we all know.
Yes, we mustn't forget that even though the American coworking giant did a lot of good for the global market by evangelizing these new ways of working, it also did a lot of harm with everything that has happened in the past two years. So, we depend on the market. We also depend on how investors perceive your product. So, it's a whole combination of factors that means that today, after the pandemic, the market has rebounded well.
We're looking at development with our investors. Today, we have four buildings, all of which are above the break-even point, and we can finally resume development. But not just any development, a development where we open buildings once those that are already open are already generating revenue.
💬 How do you work on the overall experience you offer to your members?
It's not just about the building. I like to emphasize every time that when I entered the real estate industry not so long ago, I was immediately told that in real estate, the golden rule is location, location, location.
In fact, I find this rule to be completely untrue because, indeed, if you take a location and place one community (X) there, and in the same location, you place a different community (Y), it won't have the same outcome, and, in fact, it won't be the same building. So, of course, we consider not only the building but also the neighborhood, because we integrate catering into the building operated by our chefs, bartenders, and kitchen staff. When we establish ourselves in a neighborhood, a building is, first of all, a part of that neighborhood. We look around the building – what's there? How can we integrate? We don't want to arrive as competitors; we want to arrive as people who bring solutions.
Sometimes there is no shortage, but perhaps there are shortcomings in the neighborhood. So, to answer your question, first and foremost, catering will not be the same depending on the neighborhood, the street, and the building we operate. We will look at each building, whether it's on the ground floor or not. We can certainly implement our concept, and our concept is to have catering at the heart of the building. And what's also very interesting is that even if you build the exact same building with the same services, you won't have the same population. Because in Paris, populations vary greatly from one neighborhood to another. In the eighth arrondissement, you have a lot of luxury, many lawyers, and recruitment agencies, while in the second arrondissement, for example, which is not far and also very central, you'll have more finance companies or startups. What's very interesting is that these companies have different demands.
I also noticed something from experience, which is that if you create a building, for example, you take 2000 square meters with small offices in a high-end neighborhood, you will attract smaller companies but with bigger budgets. In fact, you'll have more bosses than employees per company. And the needs of the bosses are not exactly the same as those of the employees. They might spend more time in the restaurant, and have requests because they have more restaurant meetings. It's not the same way to consume a building when you have larger teams. You have a different pay scale, different demands, and more junior employees who come to learn and thrive in a company. They have different needs too. So, you also have to tailor the offerings you make to the population you have. And inevitably, if you have larger teams with younger members, they will have different demands than an average age of 40-45, where talks about oneself, a political party, a new book, or a signing will be more interesting than organizing an event that's more oriented toward networking and relaxation, which would be the preference of a younger population. We learned this on the ground. All our services are very well adapted to both the building, the neighborhood, and the target population.
💬 What's the interior design story behind The Bureau?
I wanted something timeless. I have a background in finance. I was fortunate to work in New York, and I loved that entire era of the 1950s. I had in mind the Herald Tribune in the 1950s. You know, the cigar smoke, the wood, the glass—it's bustling yet incredibly elegant and never goes out of style. So, at the time, we had several architects working on the project. Marika Dru was the one who understood the project best. She designed three of our locations, the two in the eighth arrondissement and the last one facing the Palais de la Bourse.
The third building, which was larger with slightly more significant architectural constraints, was designed by Franklin Azzi. The goal each time, for Franklin as well, was to make sure that these offices were recognizable. From the beginning, we chose not to brand our name. When you enter the building, there are no American slogans engraved on the walls, no Steve Jobs quotes, and The Bureau isn't plastered everywhere. We wanted people to recognize The Bureau through the signature design, using the same codes but reinterpreted by the architect. That's it. It's also a difference in perspective. I'm not saying one approach is better than the other, but with us, we don't say, 'You're at The Bureau,' we say, 'You're at home.' And these two offices, which manage the common areas, can more easily make a place their own if it's not branded, of course, since they also add their touch, and it's their place, not ours.
➡️ Reflections on building The Bureau
💬 If you could do one thing differently in the journey of The Bureau what would it be?
I don't really want to change much. Of course, in terms of timing, looking back at the global events that have unfolded, you might think maybe I should have waited before signing this or that lease. But apart from that, honestly, I believe that even when you make mistakes, you shouldn't want to change them by looking back. Because it's when you make mistakes that you learn. So, we've done things well, we've done things less well, but so far, we're still here, we still have ambitions to grow. We have a tight-knit community around us.
Maybe we could have done better. We could have done worse too. I'm very happy for now with what we have, with my teams, with the members we've managed to rally around us. It's a big family, and honestly, I wouldn't change much, except of course... but that's too easy to say, 'Yes, indeed, I would have waited a little if I had known the pandemic was going to ground us like this for two years.
💬 What has been your biggest learning so far growing The Bureau?
What's great, I think, is to be authentic in what you offer. Often, we've made choices that were very distinctive, and in the very beginning, real estate specialists told me that what I had done could only come from someone who isn't from the real estate industry. Because I did exactly what we were taught not to do.
In fact, we've realized that when we make choices and we're authentic, we're rarely the only ones with the same tastes. So, we'll attract people who will be sensitive to the same things as us.
If we know why they come, we know what to do to make them stay.
And I know why they might leave if a promise is kept or not kept, or if we change what we have. So, I think that's also why we have very low turnover, because people resonate with it. And that's a big lesson. At the beginning, we said, 'we'll do this, and we'll see.' And it's easier to analyze when you have six or seven years of existence and can say, 'Yes, it worked.' And that's advice I could give, even if it doesn't please everyone, it's okay, you can't make a universal product. Apart from water, I don't know of a product that's universal, so it's not a big deal. In any case, you should be able to meet the demands and requests of a certain segment of the population. And in general, I think there's already a lot of business to be done when you've managed to meet the needs of a demographic.
💬 What would be your best advice to someone thinking about opening a coworking space?
My first piece of advice would be to carefully develop your concept and not believe that coworking is a huge catch-all in real estate. Between the birth of coworking in the mid-1990s when it was in a warehouse and it was hackers exchanging plans, to its export to Silicon Valley in the early 2000s when it was the beginning of the internet bubble, and young entrepreneurs were sharing plans to raise funds, all of that was truly magical. But today, coworking is a catch-all term that encompasses so many different things that you shouldn't lose your way. I would say that you really need to work on your concept thoroughly, even if it doesn't seem like a waste of time. Because when you have a roadmap, it's the best way not to get stuck midway. You need to work out the path before committing to it.
💬 If you could chat with coworking operators now, what would you like to ask them?
(In French 🇫🇷, translation ⬇️)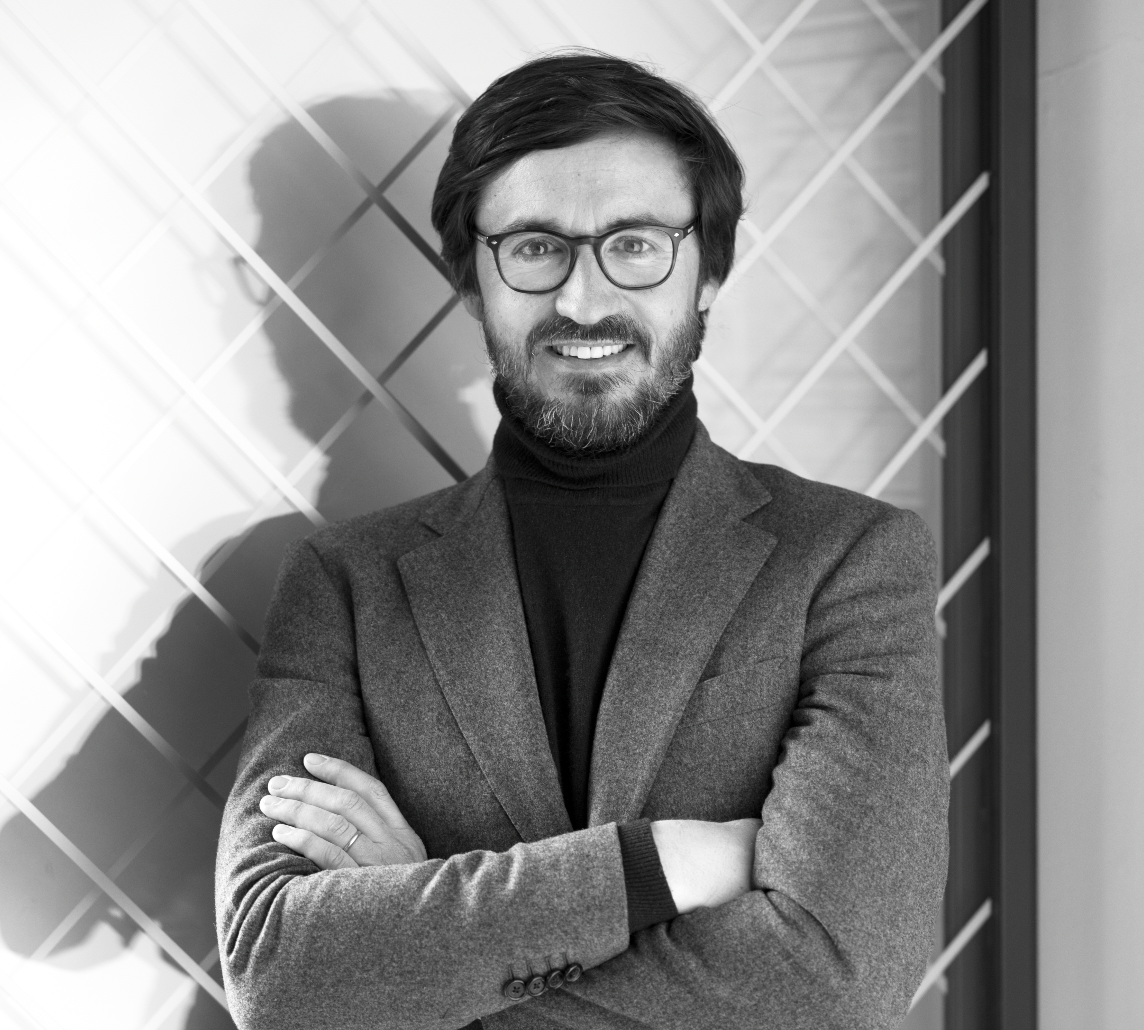 💬
"I'd first ask them how they are. I think what's quite nice in this industry is that, we are few actors, and the market is enormous. We're not competitors. We're entrepreneurs in a new market. We all have different visions, and most of them work. It's like the hotel industry. My second question to them would be to know if they're satisfied, how they see the future, and maybe in a few years, see how we could consolidate the market and what we could do together."
💬 And if you could chat with members of coworking spaces?
I would directly ask them, 'What did they come looking for in the place where they are, where they go?' Because the world is evolving so quickly. And we see it, whether it's with artificial intelligence, or new ways of working, everything is changing so fast that, in order to attract people, we shouldn't invent questions and try to answer questions that don't exist. We need to be as close as possible to the users, not only to meet their current needs but also to try to anticipate with them. What could we do to help them the best?
Users are our greatest source of inspiration, and obviously, being able to talk to people who are not members of The Bureau is even better because it could open my eyes and give me clues on how I should improve and plan my next buildings, not necessarily to make them come to us, but in any case, to make people from their demographic interested in what we offer.
💬 Last but not least, where would you want to bring The Bureau next?
My biggest wish today is to demonstrate that we're not just in Paris. I have plenty of development projects in France that I'm currently looking into. We have cities that are magnificent, with economic landscapes that are also booming since the cards were reshuffled after the pandemic, not just in France but across Europe. And we're not just French; we're all Europeans. Today, I'm looking at places like Lisbon, Italy, Spain, and Southern Europe, and I'd also like to explore Eastern Europe.
---
Join us on Discord to discuss the story of The Bureau!