Digital 52 6️⃣ - Developing premium coworking spaces in residential neighborhoods across Paris: The story of Deskopolitan.
Today's coworking highlight will take you to France's capital city, Paris. What's there? A premium coworking brand, the artisans of coworking in Paris, who took on a mission to develop premium coworking spaces in residential neighborhoods.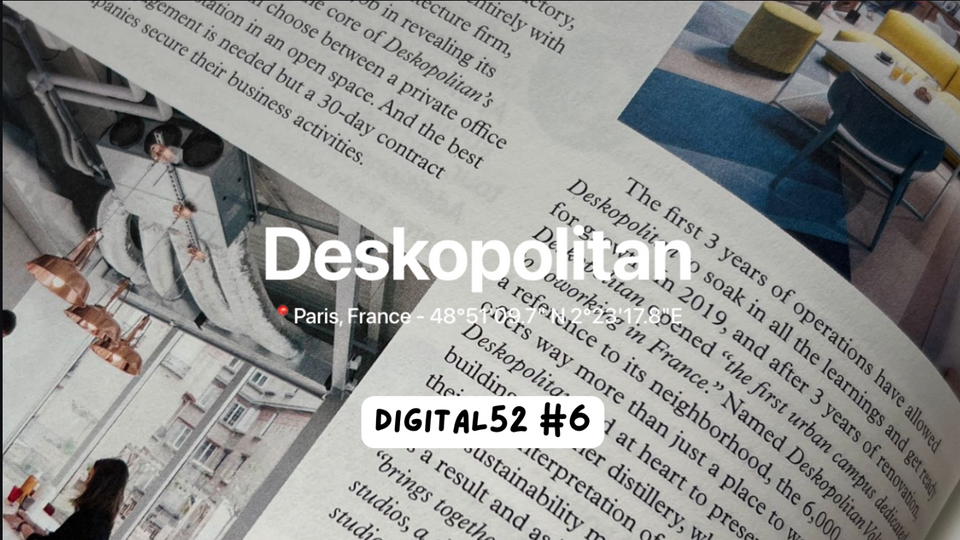 Today's coworking highlight will take you to France's capital city, Paris. What's there? A premium coworking brand, the artisans of coworking in Paris, who took on a mission to develop premium coworking spaces in residential neighborhoods.
The first time we met the coworking brand you are about to discover was back in early 2018 when they had just opened up their first space. I found out about them because, at the time, there were presidential elections happening in France and I had read on the internet that one of the candidates transformed his space into his HQ during his campaign. Back then I thought how cool that was for a politician who actually had a chance to become president, to actually base himself in a coworking space. It was such great awareness for the concept, which, at the time in France was still gaining traction. (Yes, France was quite late to the coworking train!) But beyond everything, I think this particular coworking brand was the first one I visited in Paris where I felt that they clearly knew who they were and what they wanted to achieve with their coworking spaces.
Meet Deskopolitan, a coworking brand that defines itself as "The Artisans of Coworking." You might have come across their story in the book already, but if not, this Digital52 edition will first let you discover who they are, while also getting some latest updates on where they currently stand.
➡️ A little refresher
Who's behind the featured space?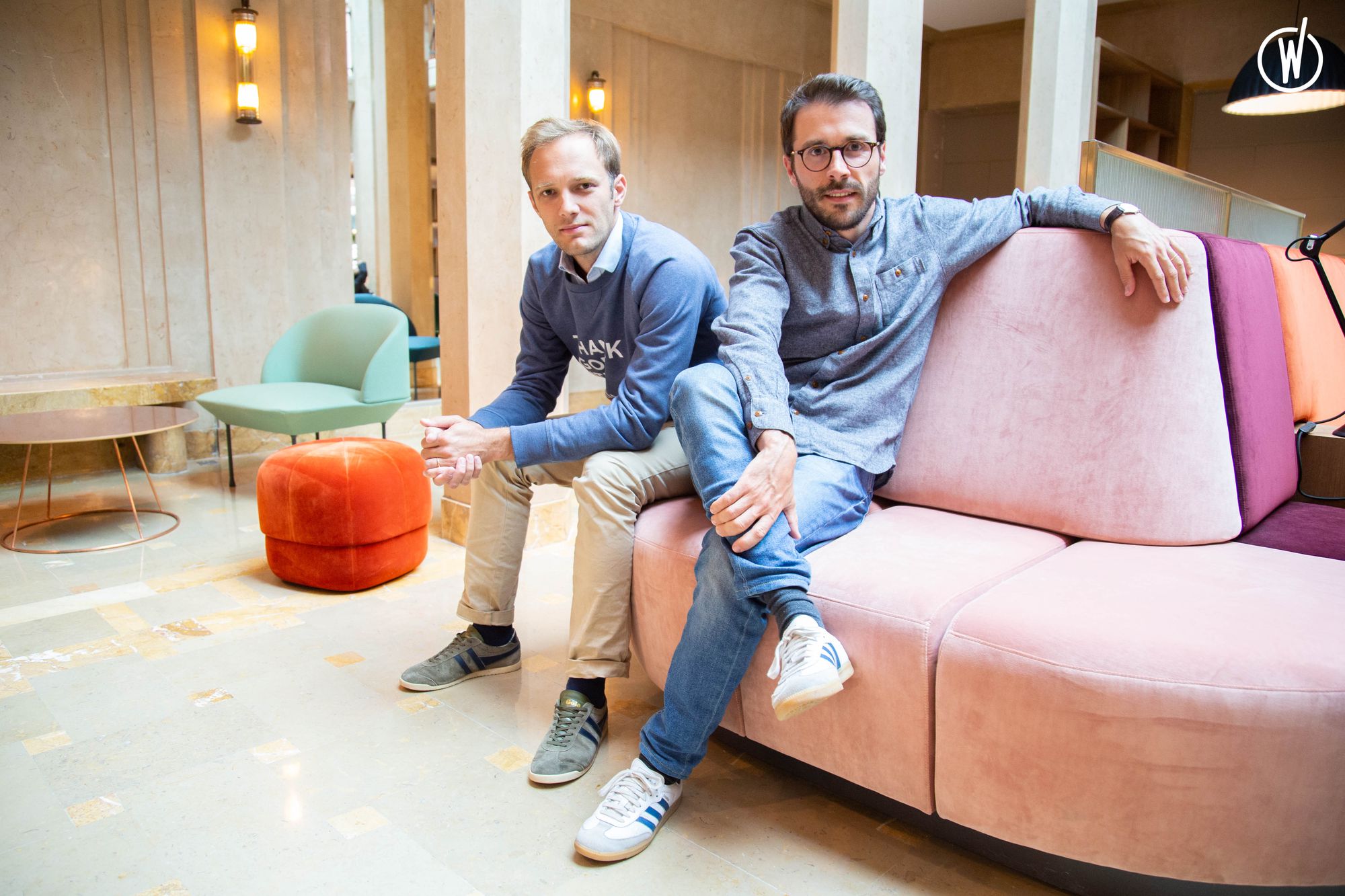 Alexis Rebiffé and Paul Chevrillon, two friends and entrepreneurs who went from creating a company selling outdoor furniture imported from Mexico to reinventing the way we work by bringing Deskopolitan to life.
➡️ Key Figures
Opening year: 2016
Size when they started: 1,350 sqm
Size today: 9,850 sqm
➡️ A little tour around Deskopolitan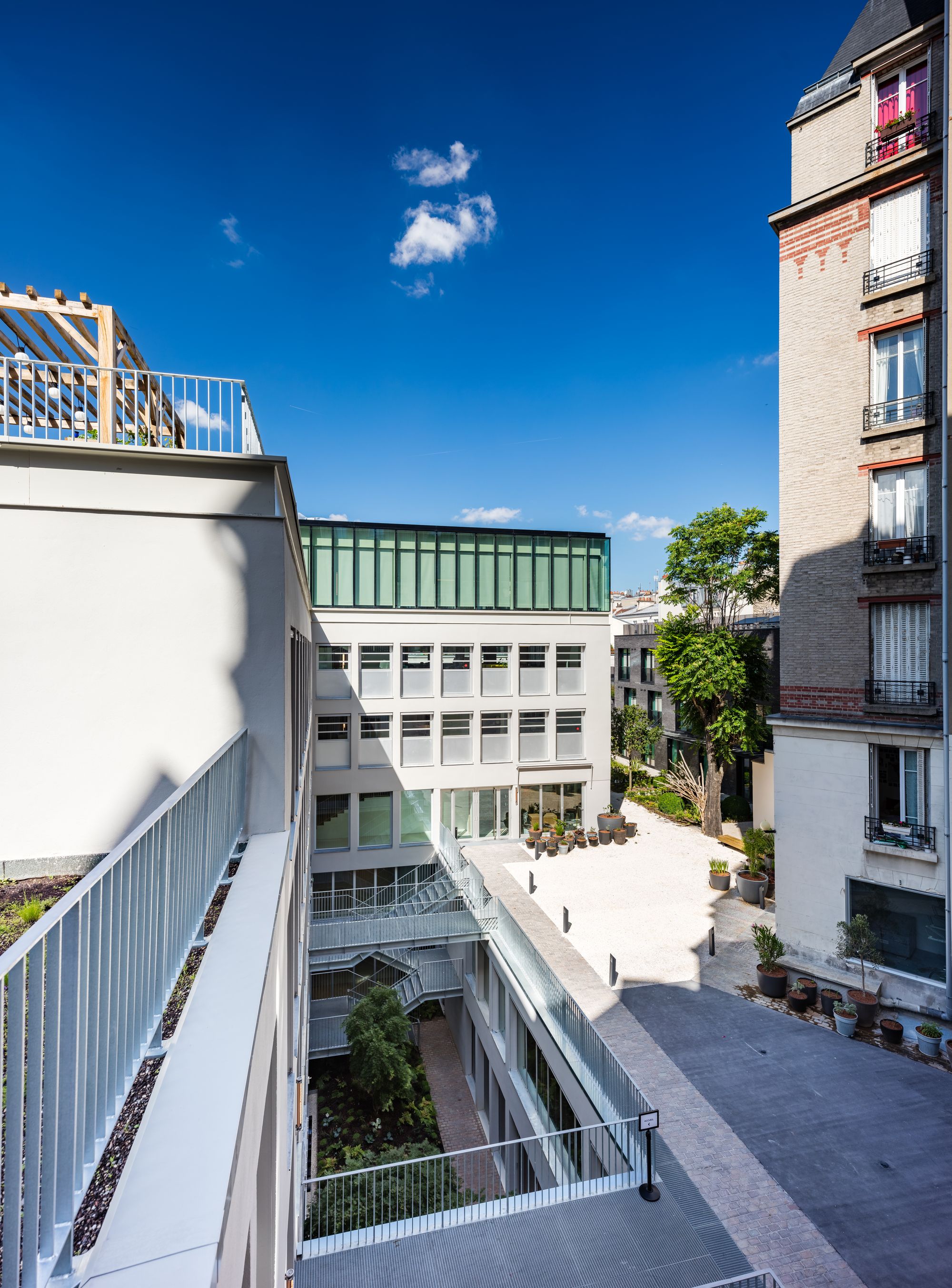 ➡️ Behind-the-scenes
Things you didn't read in aw250cs
1️⃣
Deskopolitan has always sought to open spaces in residential neighborhoods rather than business neighborhoods.
2️⃣
Their second location, Deskopolitan Voltaire, was built initially as a Distillery (Distillery Cusenier) in the 19th century.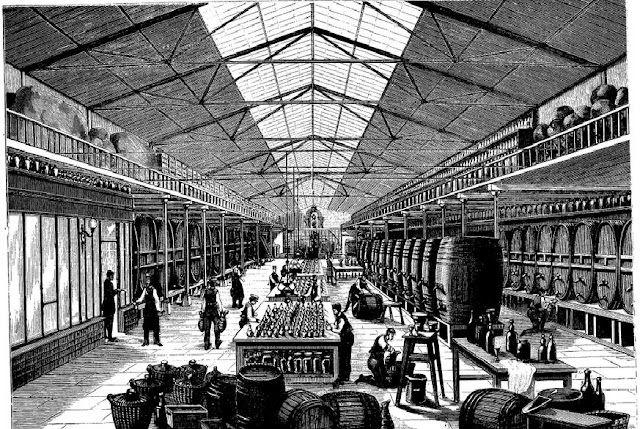 3️⃣
Famous architect Franklin Azzi was in charge of the remodeling of the Voltaire building into what it is today. (More on the architecture process
here
).
➡️ Deskopolitan Today
I reconnected with the Deskopolitan team following the release of our book and sat down with Aurore, the Marketing Manager, to chat with her about the current state of things for their brand and their spaces in Paris. Our chat brought a lot of new food for thought about what coworking can be and I hope you'll feel the same.
💫 New Market Demands
1️⃣
Deskopolitan opened one new space since we released the book!
By scrolling down, you'll discover where it is and most importantly, what happened to it!
2️⃣
The pandemic has changed many things for all of us, but for Aurore, the biggest change she noticed at Deskopolitan is connected to members' daily habits. Keep reading to learn more.
💬 What has changed at Deskopolitan since the publication of the book?
The opening of Voltaire went really well, we had good activity on the filling of this site. Unfortunately, COVID got in the way. We were able to react well and fast and avoided closing our buildings in order to make our spaces accessible for our members. We could not afford to close as that would mean asking companies to shut down their activity because we were closing. That was impossible.
As a result, we kept the minimum number of team members on-site, in order to assist the companies who remained, and then the rest of us worked remotely. We were able to put in place the safety measures required so that all our activities could continue. Financially speaking, we helped our members as well by being more flexible. We saw that March and April were really complicated for our community. As our subscription is normally on a month-to-month basis, we allowed our members to defer payments if they committed over the next three months, and gave them a subscription at a preferential rate. This measure enabled us to keep 50% of our customers. We had a positive impact. We were able to avoid being totally empty.
Then, we gradually reopened our spaces and people came back. We noticed that members were very happy to come back to find a social bond. Even if in terms of events, we were still blocked, people were happy to be able to get a change of scenery and be able to work. And on top of that, we were preparing Montparnasse in parallel (our newest location), which in fact is now called Pasteur.
On that note, we have some big news! The Pasteur building I was just talking about has been privatized by one large corporation. This corporation is divided into several companies and there are two companies that are in the building.
The objective is also to be able to show the world that we have completely adapted to what they wanted. We had to relaunch a phase of work to meet their needs in terms of fitting out the space, while not losing our own concept either. This means, for example, that we have kept shared spaces and open spaces where people can circulate, and all of them are open to the garden. We created a mix between open and club, which means closed offices and open offices. We have also kept a café area and community activities that we offer to customers who work from there.
💬 Since you are now going to rent the space to a single company, are you still going to operationally put a team on site?
Yes, we keep our operational team on site because it is part of the Deskopolitan concept. We have a manager who is in the space with an assistant, a team at the café, and a receptionist as well, precisely to be able to be present on-site and then answer their questions, and their needs and organize events, put a little life in the building.
Besides that, for everything that is more of a service, whether for cleaning or things let's say a little more related to the building, it's a negotiation between them and us. Obviously, we would have liked to be able to take care of everything, but they themselves would like to keep control of certain service providers. We keep a part of the building's management as well as the operational side with the reception, the café, and the manager on-site. But they will not be integrated into the slack group where all of our members from our other two locations are. Their building will not be open to the public. Even if it is part of Deskopolitan, it will still be detached from the portfolio of spaces we offer our community.
💬 You define Deskopolitan as a premium coworking space. What does premium mean to you?
The concept of premium is connected to what we call ourselves. We say we are the "Artisans of Coworking". Today, in the Parisian market, there are more and more competitors. But we realize that, unlike our competitors, we are still the only ones to own our buildings, which still involves a lot of things.
It implies, for example, that we are totally in control of what we want to do inside, whether in the layout of the spaces, the furniture, the decoration, or the teams. We are really paying attention to every detail, we favor quality over quantity. This is also reflected in the relationship we have with our customers, who we call our members, and not our customers because we want to create a real community, like a house where we really feel good, where everything is optimized to be able to work well.
There is also a real reflection behind the concept itself, which has been worked on with architecture and space planning consultancies to precisely find out, for instance, what the ideal size of a workstation is. For example, in other coworking spaces, we have noticed that people are sometimes right next to each other. I'm talking about operators here that are quite big in the industry. They favor quantity over quality.
We are the complete opposite. While we have "only" three spaces, when our members come to work, we make sure to offer them choices; a workstation that is 1m or 1m20. They are also offered a comfortable and ergonomic chair, and always natural light, with lots of open spaces and vegetation. When you move into Deskopolitan, the onboarding goes fast, in plug-and-play mode and you just have to put down your computer and then we take care of everything else.
There are also complementary services, which is where we come in and bring a different touch to things. For example, in Voltaire, there is a restaurant, a gym, and a hotel which are directly on-site. We have a vegetable garden, too. There are also studios, not living ones but more like recording studios or artists' studios. Finally, there are partially furnished offices, so that it meets a different need that you may have when you work during the day. I would say that those complementary services are the third pillar that reinforces this whole offer a little and which makes us say that we are indeed premium.
Everything about bringing life to our spaces is linked to the community.
Each new member is directly supported by our teams. Each member is really accompanied throughout her/his installation. Our teams are always available to answer questions while offering extra attention to our community, and little gifts. For instance, we have a welcome pack that includes a tote bag, a water bottle, and reusable cutlery. All of those are things that are ecological and practical for when you work at Deskopolitan. All these little touches make us a premium coworking space.
💬 Why did you decide to open an 'Urban Campus' as you describe it, which includes more than workspaces? Why was it important to you?
The idea behind Deskopolitan is also to be able to open up to the life of the neighborhood and to energize it. For example, at the very beginning, when we opened here at Château d'Eau, our first location, the district was still in its infancy. And today, we actually see that our street now has plenty of small independent shops and small restaurants. It's really very alive. There are many coworking cafés, but initially, there weren't that many. We brought a population of workers back to a neighborhood that was more residential, we brought life into this neighborhood and we got involved in energizing it.
In Voltaire, our 2nd space, we wanted to recreate the same thing, this time with 6,000 square meters. We did not want to make it a place dedicated solely to work that is closed to the outside world. On the contrary, we wanted to create a place where anyone is welcome. We went out and about, looking for a service provider for the restaurant who was in line with our values. Same for the gym. Everything is related to the message we wanted to convey. Our gym is quite premium, with coaches for everyone. We also have an associative nursery, which is aimed at people from the neighborhood, and via our hotel, we attract people who are travelers. We have created a new little bubble in this Voltaire district which is also becoming more dynamic.
💬 What has the pandemic changed for you?
There's been a lot of impact and changes. What immediately comes to mind is that everyone had to adapt their work habits, including us. Just getting together and coming to work every day feels like a thing of the past. Before COVID, employees came and had their assigned positions. Today, most have one or two days a week where they can work from home. This means that our members do flex office, that is to say, that they do not necessarily have a dedicated desk in their own office. They can share it with a colleague when (s)he is working from home. Our relationship with the office, in general, has become freer, we come whenever we decide.
We are making the workplace much more flexible, and that is changing our habits. Today, when we come to the office, it is also precisely because we know that we are going to see colleagues. And suddenly, the moments we spend there are a little more convivial. We see that the same people leave much earlier than before. Before, at 8 PM., people were still there. Today, at 6 PM, there is a big wave, and everyone leaves.
We feel that habits have changed, that people are no longer just focused on putting in countless hours and staying in the office, but on the contrary, creating other things on the side.
Same for meeting rooms. Before meeting rooms could be booked for a whole day and it was planned two weeks in advance, with a lot of people. Today, meeting room reservations are made 2 days before, for 3 or 4 hours and we don't meet for just anything. There really is a clear objective; we are here, and we know why we are here.
➡️ Reflections on building Deskopolitan
💬 You've been open for six years. As a team what is your biggest lesson or the thing you have really learned over time?
This question is very interesting because I think each of us could give you a different answer, depending on our role at Deskopolitan. But I think overall that's what Paul and Alexis, our founders, would say.
If we have come to where we are today it is precisely because we were able to observe what was happening, listen to the needs of our members, and observe how their requests were changing in order to react quickly and adapt. We were able to modulate our spaces.
To give you an example, at Chateau d'Eau, our first site, we redid a construction phase when the space was already open to close some of our spaces. At some point, we realized that people were not looking for open spaces, but rather small offices where they could be with their teams. So, we listened and we closed some of our open spaces. Today, in Voltaire, it's the same. There are certain spaces that are too big that we are closing up. We are creating spaces to have new phone booths because our members need to make more calls.
I think in the last 6 years we have learned adaptability and flexibility. We have to be flexible like our offices because things can change very quickly. You have to know how to react.
💬 If tomorrow someone came to you and said: "Aurore, I want to open a coworking space". What would be your first piece of advice?
This question is complicated.
First of all, I think it is important to know the area where you want to open your space, as well as who you want to address. The location of the space affects the people you attract. Hence, before getting started with anything, I would advise doing a market study in order to understand your area better and who your competitors in that area are.
And once you've opened up your space, it's super important to have good recruitment processes, that allow you to have an enthusiastic, caring team, in order to really have a company culture that is transmitted through the team. I find that this is also what makes all our strengths at Deskopolitan. Customers today are very happy because the team is great.
💬 If you could chat with coworking operators, what would be the one question, you would like to ask them?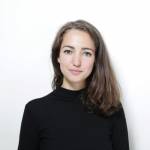 💬 If you could ask anything of people who use coworking spaces around the world, a member of a space not necessarily yours. What would you like to ask them?
There is a question that comes to mind right away. Probably because it comes from the questions I ask myself on a daily basis.
How do they choose where they will work? How do they choose the coworking space where they will work from? Is it because they saw posts on Instagram? Was it word of mouth? Did they click on an ad? Is it because the place looks beautiful? Is it because there are lots of animations?
I'd like to listen to the needs of our future customers, and know what they expect from a coworking space.
💬 My last question for you is where are you going to take Deskopolitan now?
Well for the moment, we stay in France.
If we stay in France, we would like to go to cities like Lyon for example, to try to establish ourselves elsewhere than Paris. But we would also like to be able to expand in Paris, so why not find opportunities and places here? It's less easy because we look for buildings we can own so it takes a lot of time to find a place with a minimum of square meters. But yes, the idea is to find other spaces, to continue to develop the Deskopolitan concept in Paris and in other cities in France, and to grow our teams as we go.
---
Let's discuss the story of Deskopolitan on Discord! Come join our extended community of readers by clicking on the link below.